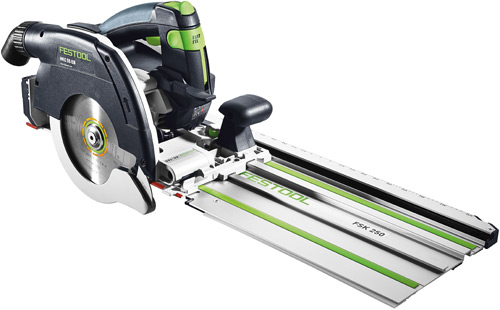 Festool has expanded its current 18-volt 'unplugged' cordless range with the launch of a new compound mitre saw system, the HKC 55.
Designed to produce fast, precise and clean cuts, the HKC 55 comes with a 5.2 Ah high-performance battery pack and brushless EC-TEC motor. Festool says the new tool has several features designed to help the user to work efficiently, including balanced weight distribution, intelligent angle and depth adjustment and more.
The new FSK trimming rail is available in three different lengths and a rubber spring, which is integrated in the trimming rail, automatically brings the HKC 55 back to the starting position, making the saw always ready to use for the next cross-cutting operation.
In order to provide more convenience and safety when sawing, the HKC 55 is also equipped with a hinged cover. A lever inside the machine causes the pendulum hood to slide back, providing a clear view of the saw blade to enable easy sawing, even when performing mitre cuts.
For maximum cutting performance and high cut quality, Festool offers three new cross cut, rip cut and fine cut saw blades, especially adapted for the HKC 55. These saw blades can be changed quickly and easily thanks to FastFix.
With no power cables, the company believes the new HKC 55 is ideal for construction work, including roofing.