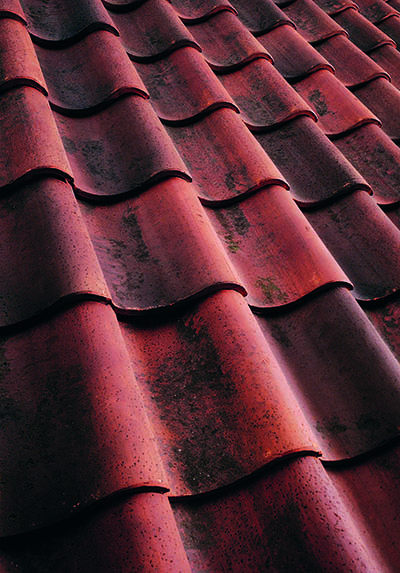 It is well known that clay, concrete roof tiles and good quality natural slates can have an incredibly long lifespan. So long, in fact, that the tiles or slates will outlast the other components of the average pitched roof.
Although manufacturers of roof tiles limit their guarantees to commercially sensible periods, typical clay could last well in excess of 100 years. However, the average tiled or slated pitched roof lasts around 40, 50 to 100 years, due to eventual deterioration of other components in the roof system such as the underlay, timber battens and fixings, as well as the ravages of the UK weather.
This means that during a demolition or a re-roof, the slates and roof tiles can be salvaged and re-used, either on the same property or, more commonly on another project. It is more common for clay tiles, particularly traditional clay pantiles, to be re-used for full roofs, rather than concrete tiles. Concrete tiles tend to be stocked by reclaim yards for use as spot replacements to colour match existing roof tiles which have faded over time.
So what are advantages or disadvantages to using reclaimed tiles or slates?
Firstly, let us look at the advantages. Reclaimed tiles and slates can be ideal for old buildings, particularly heritage projects in sensitive planning locations, where the roof must blend in perfectly with the surrounding buildings.
Clay roof tiles and natural slates that are in good condition after 50 years have perfectly demonstrated their durability and will almost certainly survive for the next 50 years and beyond.
However, be aware of the disadvantages of using reclaimed tiles and slates. For example, it may not be possible to install and secure them in accordance with current Standards and best practice. This is often the case with old, traditional clay pantiles that were produced without fixing holes and were originally simply laid onto tile battens with no fixings. Under today's Standards, all tiles must be adequately secured to resist wind uplift.
Too few
A common problem that occurs when using reclaimed materials is that there are simply not enough of the particular tile or slate available from a single batch to complete a roof. A reclaim yard may have enough to do the job, but they could be a mixture from different roofs, even different locations and so do not quite match on the roof. In the case of slates, this can mean variations in colour and thickness and in the case of clay pantiles, variations in profile shape and overall dimensions.
Dimensionally inaccurate
Old clay pantiles were, of course, originally handmade, therefore not particularly dimensionally accurate. When they were first laid, the roofer would often 'finish off' the tiles by trimming the mitred corners to fit. Rather like dry-stone walling, this meant every tile had its place. Therefore, when these tiles are stripped off the roof and stored, the mitred corners no longer match and the roofer re-laying the tiles can have great difficulty achieving a consistent and watertight finish.
Age issues
The age of second-hand materials may not be known to any degree of accuracy, consequently predicting the remaining lifespan is difficult, if not impossible. Of course, there is no assurance, whereas new tiles or slates will come with a supplier's guarantee.
I hear you saying 'as a representative of the roof tile manufacturing industry, he would say that, wouldn't he?', and of course, UK manufacturers produce some great products that perfectly match old roofs. For example, Wienerberger's Arcadia clay pantiles in Reclaimed colour are perfect where a weathered or aged appearance is required. There are also many new clay and concrete plain tiles available in the UK that give the appearance of an aged roof.
Nevertheless, when roof tile manufacturers assess the environmental impact of their products, the analysis takes into account the product's total lifecycle, including potential use in the second-hand market, therefore it is important for the manufacturer to be open about the true life-span of their products.
In summary
If using reclaimed roof tiles or slates, try to establish their age and where they were previously installed. Make sure you can obtain enough from a single batch to complete your project.
But if you want the security of a durability guarantee, and the ability to install in accordance with current standards, consider using new materials manufactured to give an aged appearance