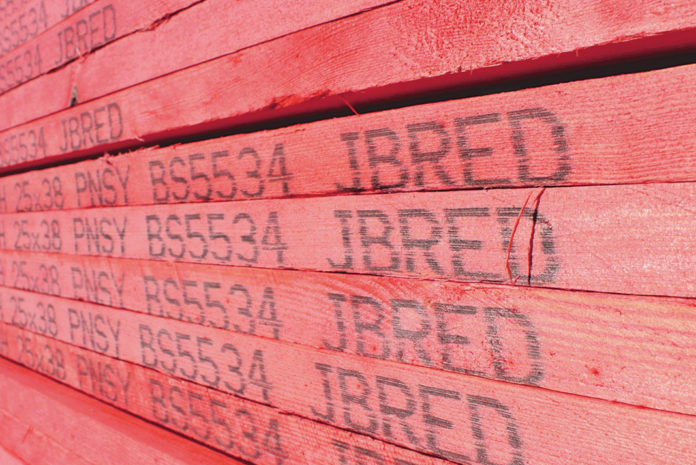 As the whole construction industry rises to the challenge of delivering a net zero-carbon built environment, choosing sustainable materials and cutting waste has never been more important. Despite some myths, timber is one of the most sustainable product choices, with the lowest embodied energy of any mainstream building material, providing it is responsibly sourced from well managed forests.
Yet, with around 50 different certification schemes in place and varying timber origins, how do contractors know if they are buying the most sustainable batten? Here I look at some of the most frequently asked questions about roofing batten and sustainability:
How do I know if a batten is sustainably sourced?
There are a few things to look out for. The most important is chain of custody certification – this is usually listed as either Forest Stewardship Council (FSC) or Programme for the Endorsement of Forest Certification (PEFC) and will appear on the documentation. This proves the timber is sourced sustainably, from well managed forests with excellent replanting programmes. If you can't see any certification, don't recognise the timber body listed, or have any doubts, you should contact the manufacturer. All our roofing batten carries either FSC or PEFC certification.
The second thing you can look out for (in addition to the chain of custody certification) is third party assurance of quality and sustainability. There are concerns that not all batten stamped as BS 5534 compliant meet the standard, so getting an independent verification, like British Board of Agrément (BBA) accreditation, gives an extra peace of mind.
What is the difference between FSC and PEFC certification?
There are many different certification schemes to prove that timber is sourced from a sustainable forest. The FSC and the PEFC are the most well recognised. Both organisations are dedicated to sustainable forest management, but they focus on separate environments. The FSC was initially set up for tropical forest areas, whereas the PEFC covers wooded areas in both Europe and North America.
Both types of certification are an excellent accreditation to show timber is responsibly sourced. Some main contractors and clients will ask for PEFC certification and others will ask for FSC. All our batten carries either PEFC or FSC certification to meet both needs.
What do all the stamps on the batten mean?
Roofing batten must be stamped with the following:
BS 5534 stamp to demonstrate compliance with the British Standard
Name of the supplier
The species of tree from which the timber has come from. We only use slow grown imported redwood or whitewood for our JB Red batten. Redwood is stamped on the batten as PNSY (Pinus Sylvestris) and whitewood is stamped as WPCA (Picea Abies)
Size of the batten.
In addition, our JB Red batten are covered by a BBA certificate and are stamped with this as an independent verification of quality, sustainability and BS 5534 compliance.
Does it matter where the timber is grown?
We only use slow grown timber from Nordic countries because colder climates produce slowly grown, stronger timber. Faster growing timber isn't as strong. Our JB Red batten is manufactured using kiln dried, side-board timber, which gives a straighter, stronger batten than centre cut, which contains the pith and is less stable.
How can I reduce timber waste?
The best way to reduce timber waste is good product specification. Choosing a quality batten from a trusted manufacturer will help to reduce waste. All of Marley's batten is machine graded with the state-of-the-art Goldeneye laser scanner, which minimises waste because all batten is compliant and suitable for use. An inferior batten can contain non-compliant defects, which leads to more waste on-site during the fixing process as these must be cut out.
It is also advisable to purchase a variety of different lengths to minimise cutting and waste. Get a new specification for every project and plan the roof layout in advance to make sure you are ordering the right amount of batten.