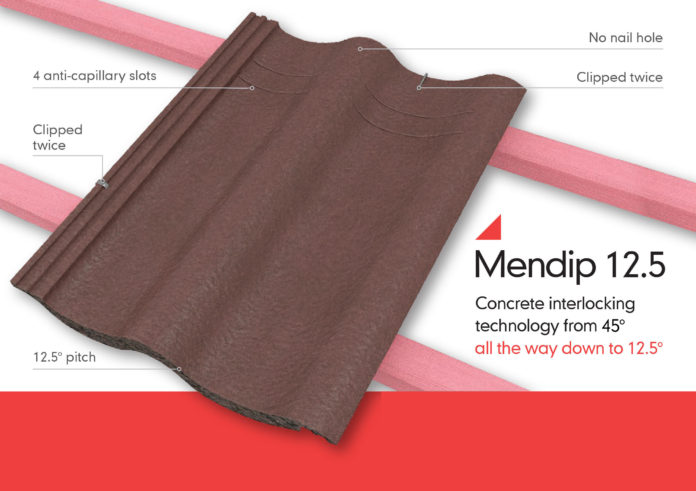 Stuart Nicholson, roof systems director at Marley, explains how a new low pitch tile will give contractors more choice for extension projects.  
Last year, changes to 'Permitted Development Rights' were made permanent, which means homeowners no longer need planning approval for single storey extensions up to six metres for terraced and semi-detached homes, or eight metres for detached properties. This has had a positive effect on the home improvement market, with over 110,000 extensions completed since the initial planning relaxation back in 2014.
With ongoing financial uncertainty and the high cost differential between buying and selling houses, British homeowners are expected to spend a further £55.5 billion on home improvements in the next 12 months*. Indeed, with the permanent relaxation in planning laws, extending rather than moving house is set to continue to be a popular option, particularly in some parts of the south east, where an extension can add as much as £19,000 per m2 to a property's value.
Homeowners often prefer the performance and aesthetic of a pitched, rather than a flat roof for rear extensions and as this market continues to grow, this means there is a significant opportunity for roofing contractors.
Yet, there are some restrictions when constructing pitched roofs on single storey extensions, due to the position of first floor windows. This means that a lower pitched roof is often required, but historically there hasn't been a great deal of tile choice when looking to create a pitch below 15°. This is because weather tightness decreases as the roof pitch gets lower and it takes longer for water to drain from the roof, so not all tiles are suitable to use at such low pitches.
Mendip 12.5 interlocking concrete tile
Over the past few years, we have been investing in developing new low pitch tiles and we already offer a range of clay and concrete interlocking tiles that can be used at pitches from 17.5°, down to as low as 12.5°. However, until now, the lowest pitch concrete tile in the range only went down to 15°, so we wanted to offer contractors an even lower option for extension projects.
That's why we have designed the new Mendip 12.5 interlocking concrete tile, which has the same double pan aesthetic as the standard Mendip tile, but has special features which protect it from the elements and allow it to be used at a much lower pitch. Developed specifically to meet the needs of the extension market, the new tile can be used on pitches as low as 12.5°.
To ensure the Mendip 12.5 can be used at such a low pitch, the tile has four weatherproofing channels at the face of the tile to prevent water ingress. These channels act as a recessed barrier for wind driven rain and capillary action from the overlapping tile. To make it even more watertight, the tile has no nail hole and is instead installed with its own Mendip clip.
As well as the head clip, the Mendip 12.5 is also compatible with the SoloFix one-piece clip and nail, which can be used as the second clip in accordance with BS 5534. As with most low pitch tiles, when installing to a low pitch of 12.5°, it has a maximum 100mm head lap and can be used at six metre rafter lengths only.  Anyone needing to use longer rafter lengths should contact our technical team for advice.
We will still be selling the popular original Mendip tile (which can be used down to 15°) but from February 2020, the range also includes the new Mendip 12.5 in two colours – Smooth Grey and Smooth Brown. This means contractors will have much more choice about the type of tile and colour when creating low pitch extensions, making it much easier to match the original roof tiles and ensure a robust performance.
The new Mendip 12.5 can also be purchased as part of our full roof system, including underlay, battens, fittings and accessories, ensuring compatibility and compliance with BS 5534 and BS 8612, backed up by a 15-year system guarantee.