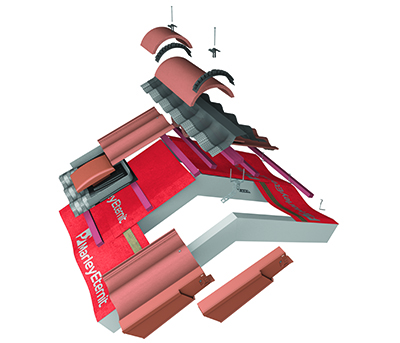 There is a suggestion that the term 'pitched roof systems' may not be that commonplace among contractors as many do not necessarily think of a pitched roof as a complete system, particularly in the absence of a firm specification. However, with the important considerations surrounding roofs these days, including working to the latest and any future British Standards, I feel there is growing impetus for contractors to consider the benefits of a comprehensive, single-source roof system, as opposed to mixing a range of generic products from different manufacturers.
In addition, there are other considerations for contractors that could make choosing a full single-source roof system even more attractive. For example, there is a chance future updates to Building Regulations may mean stricter requirements to roof in compliance with the British Standards, placing more pressure on roofing contractors to be able to ensure that their work is not only compliant, but in the event that their work or product choice is challenged, they have the backing of a roof system supplier with a long-standing reputation and credibility.
Greater access
Questions over workmanship and product choice are also on the rise as homeowners and other clients gain greater access to online information on roofing. This has meant that some are becoming far savvier and prepared to input into, and challenge, work on their roofs – sometimes even going as far as to research the British Standards. So, we understand contractors are under greater scrutiny than ever before and, therefore, they need to be sure all their practices and materials consolidate risk where possible and best support their reputation and workmanship. We believe that this is best fulfilled, using a single-source roof system where all parts are designed and tested to fit and work seamlessly together and can certainly help this.
We also understand that when roofing materials are not specified and client pressures see a focus on reducing costs, there can sometimes be a tendency to use a variety of roofing products from different suppliers, in an effort to keep project costs down. However, while these may be fit for purpose, they may not necessarily be designed and tested to work together in the same way as components from a single-source system.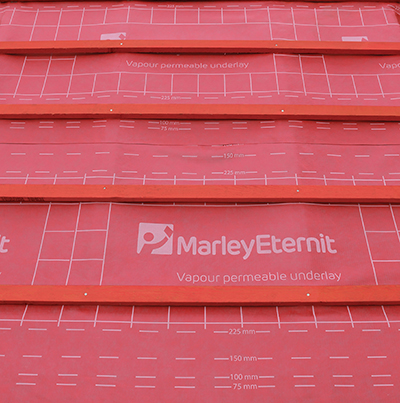 So, what do I feel are the benefits of choosing a full roof system from one supplier?
Consolidation of suppliers means there is only one to deal with should there be a need for advice, guidance or support. Also, should anything go wrong or be challenged on-site, then there is only one supplier to deal with.
The parts of a single-source pitched roof system are all designed and tested to work seamlessly together, providing reassurance of compatibility and long-term performance.
Access to technical tools and support covering the entire system through one supplier makes for much simpler use than trying to access the same information through lots of suppliers for numerous parts. This helps to save time and effort. A key part of our roof system offer is the ease of access to tools and knowledge that make the design, specification and fixing process easier and faster. Our support package includes bespoke fixing specifications, a single contact for technical advice, as well as free, easy-to-use apps and online tools, all designed to make sure contractors get the benefit of our 100 years of roofing expertise to assist in their installation.
In many instances, single-source roof system suppliers can also offer the benefit of a system warranty if all of their products are installed to their recommendations – usually provided in the form of a fixing specification and national building specification. At Marley Eternit we provide a 15-year warranty when a full roof system including underlays, roof battens, coverings, fixings and accessories is purchased from our range – giving the ultimate assurance that our integrated roof solutions can be specified and installed with complete confidence.
With the recent addition of battens and roof underlays, at Marley Eternit we now offer the most comprehensive roof system on the market, and we would encourage contractors to take advantage of the benefits of choosing a single-source roof system to provide protection for the roofs they install and their reputations.