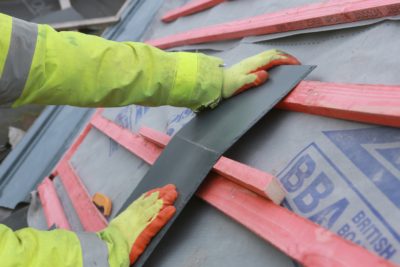 This month marks four years since the introduction of controlled cutting guidance to protect roofers from exposure to silica dust. Steve Bryceson, technical manager from Marley Eternit, warns this is still a serious issue today and explains why he feels fibre cement slates can help to further reduce the risk and cost of on-site cutting
Four years ago, in October 2012, following growing concerns about the risk of exposure to Respirable Crystalline Silica (RCS) from dry cutting roof tiles, the HSE and NFRC published safety guidance that must be followed for the controlled cutting of all roof tiles and slates.
Earlier this year, the Occupational Safety and Health Administration (OSHA) in the USA introduced its own Silica Standard for roofing and construction, aimed at protecting the estimated two million workers being exposed to RCS. The OSHA believes that more than 600 lives and over 900 new cases of silicosis could be prevented each year as a result of this new standard.
Here in the UK, whilst it was a major change to roofing practices at the time, the risk of exposure to RCS, or silica dust as it is often called, is now very well known in the industry and the safety measures have been widely adopted. However, it only takes a small amount of the very fine RCS to create a health hazard and with around 500 construction workers each year dying from cancer caused by past exposure to silica dust, there is certainly no room for complacency.
The problem is that the effects of the dust are not immediately visible, but regularly breathing in even small amounts can build up and damage the lungs. This can cause lung cancer, silicosis and Chronic Obstructive Pulmonary Disease (COPD). Unlike an injury on site where the effects are seen straight away, silicosis and other silica related illnesses are not immediately obvious and may not show up for many years after exposure. This is what makes it so dangerous, as roofers don't see that they are doing themselves any harm. The most common early symptoms are a chronic dry cough and shortness of breath with physical activity.
Marked & cut off the roof
As October 2016 is the four-year anniversary of the introduction of the controlled cutting guidance, it gives roofing contractors an opportunity to remind employees of the HSE guidelines and to check the necessary precautions are being taken on all roofing projects, regardless of size, to ensure they are protecting themselves and their employees.
As a reminder, for verges, abutments and openings, ridges, hips and valleys, if cutting is needed then tiles must be marked and cut off the roof surface, either on the ground or an area set aside on the scaffolding, using water suppression and respiratory protective equipment (RPE). A minimum water flow rate of around 0.5 litres per minute is required for effective dust suppression, unless a manufacturer advises otherwise, as low flow rates will not properly control the dust.
The HSE also recommends that to further reduce risk, tiles and slates should be hand cut wherever possible and we have several roofing products that can help do this.
Over the last four years, we have seen growing demand for fibre cement slates and the fact they can be cut by hand on site is just one of the reasons they are becoming so popular.
Available in uniform size, shape and thickness, all of our fibre cement slates can be scored and snapped, or cut with a guillotine or reciprocating saw, making them very quick to install without the need for water suppression.
Not only does this further reduce the risk of exposure to silica dust, it can also have a significant impact on cost because it does not incur the additional expense of dust suppression equipment, or the time and labour cost of roofers having to go up and down from the roof to the scaffold, or ground, to cut tiles.
As well as fibre cement slates, our range of clay and concrete interlocking tiles can help reduce the need for cutting and fixing small sections of tiles. Dry Fix solutions such as cloaked verge tiles, which incorporate half tiles to assist with setting out, and dry valley troughs which reduce the need for precise raking of cut tiles, can also save on cutting time.
For a reminder of the full controlled cutting guidance, visit www.nfrc.co.uk/docs/health-and-safety-guidance-publications