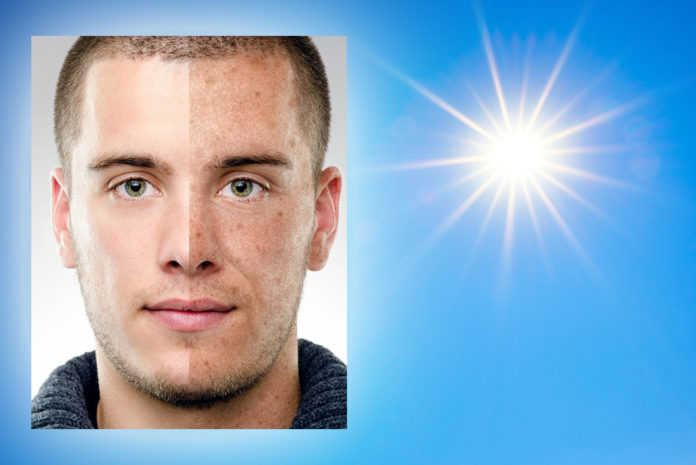 This summer sees Marley launch an integrated solar panel offer to meet the growing demand for low carbon energy generation and provide roofing contractors with a potential new revenue stream. However, the summer months and warmer weather is also time for contractors working outdoors to be mindful of the dangers increased UV exposure can have on skin and eyes, as Stuart Nicholson from Marley discusses in this article.
Summer is here and despite the challenging times we have all been through since March, an upturn in the weather and the record-breaking number of sunshine hours we have all enjoyed in April and May has most definitely been welcomed.
And, it is the sun which underpins a potential new revenue stream for contractors and the safety advice we are sharing.
With an increasing focus on the delivery of sustainable solutions to support the UK target of net zero greenhouse gas emissions by 2050, Marley has launched Marley SolarTile. The integrated photovoltaics (PV) system offers easy installation, sleek design, energy cost savings, proven performance and a chance for contractors to open up a new revenue stream.
According to the Energy Savings Trust, a typical home could save between 1.3 and 1.6 tonnes of carbon per year and make a saving of up to £260 on the annual electricity bill by installing solar panels. With legislation changes expected to follow the current Future Homes Standard consultation, both specification and household demand for reliable and high performing alternative solar panel solutions is also expected to increase.
The Marley SolarTile range comprises three sleek, low-profile PV16 solar panels for roof integration. Each is available in a range of power output and styles. The range covers the Monocrystalline – black 320Wp, the Monocrystalline – black 300Wp and the Polycrystalline – black 270Wp.
For newbuilds, Marley SolarTile comes with all the components, including fixings, to allow installers to complete the job without delay and without the need for additional third-party products. Colour coded boxes and a clear installation guide make it easy to see the order that sections need to be fitted. The patented connection of simply pushing the panels together to create a weather-tight and secure fixing means install time can be less than one hour per kilowatt-peak.
Integrated solar panels are also highly applicable for retrofit projects. Simply removing a patch of tiles and installing the solar panels leaves spare, perfectly matched tiles available for any future roof repairs.
Marley SolarTile offers versatility and can be fitted in both tiled and slate roof applications, and is compatible with all core roof covering products, providing ultimate flexibility across all projects.
Backed by a 15-year system guarantee, when fitted as part of a Marley full roof system, the Marley SolarTile range achieves exceptional fire performance, wind resistance and weather tightness, and is the perfect answer for any potential solar roof vision.
Continue to stay safe in the sun
This summer, our Safe in the Sun initiative is once again urging all roofing workers to take the time to look after both their skin and eyes, and be aware of the lasting damage that can be caused by increased sun exposure.
While the dangers of increased sun exposure to the skin is already well known, eyes are also highly susceptible to damage by UV rays. In fact, more than 99% of UV radiation is absorbed by the front of the eye, which, over long periods of time, can lead to visible ageing around the eye area, cataracts, skin cancer on the eye lids and even vision loss.
UV light is one of the many hazards that can damage eyesight, so it is important to wear protection. A roofer wearing safety sunglasses will not only protect their eyes from harmful UV rays, they will also feel more comfortable when working in bright conditions as the glasses will reduce disruptive reflections (glass, light coloured roofing membranes etc). Safety sunglasses with UV 400 protection and the relevant British Standards kitemark or CE mark, can help vision be significantly safer and more pleasant in sunny and bright conditions.
To help ensure outdoor workers remain safe this summer, Marley has these simple tips:
Sun safety on-site
Don't leave exposed skin unprotected. Use sunscreen with an SPF of at least 25 and remember to reapply regularly throughout the day
Make sure you apply sun cream, even when it is cloudy – up to 80% of dangerous UV rays can pass through a cloudy sky
To reduce the amount of sun cream needed, consider using long sleeved, lightweight, UV-protective personal protective equipment (PPE)
Wear safety sunglasses with UV protection. Look for a UV 400 rating and check they are certified in line with EN 166 (personal eye protection) and EN 172 (sun glare filters for industrial use)
As safety sunglasses will only cover part of your face, to prevent skin cancer and ageing, make sure you also apply sunscreen to the rest of your face.
To find out more about Marley SolarTile and keeping safe in the sun, visit www.marley.co.uk/solarinstall for more information.