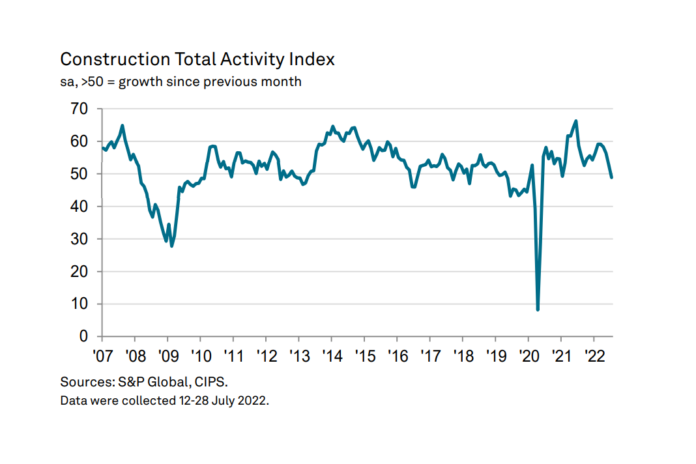 UK construction output has decreased for the first time since January 2021, a report has found.
The headline seasonally adjusted CIPS UK Construction Purchasing Managers' Index reported a total activity index of 48.9 in July – which is down from 52.6 in June and below the 50.0 no-change threshold for the first time since January 2021.
Decline in business activity
Throughout the industry there was a decline in business activity. Overall, civil engineering was the worst-performing segment in July, with business activity falling to the greatest extent since October 2020. Moreover, house building declined for the second month running, but the rate of contraction was only slight (index at 49.4).
However, commercial work resisted the downturn seen elsewhere (52.3 in July), although growth was the weakest for 18 months.
There was a rise in new orders for the 26th consecutive month, however, data also showed that the latest upturn in new business was notably weaker than seen on average earlier this year.
A gradual turnaround in supply conditions meant that construction firms tempered their stock building efforts in July. As a result, purchasing activity expanded at the weakest pace since January 2021.
Furthermore, employment numbers accelerated pace in July but there were still many reports of difficulties filling vacancies and strong wage pressures.
Inflation
Purchase price inflation was reported as 78.1, down from 85.8 in June, with the latest rise in cost burdens the least marked since March 2021.
Construction firms noted increased pressure on business expenses from an overall increase in costs, but this was partly offset by some easing in commodity prices.
Supply delays
Regarding supply delays, around 22% of the survey panel reported longer lead times from suppliers in July, while 7% signalled an improvement. Although the latest survey indicated that supplier delays were the least widespread since February 2020.
Industry anticipations
Around 42% of the survey panel anticipated a rise in output during the year ahead, while only 15% forecast a decline. Recession concerns, the cost-of-living crisis and lower levels of consumer confidence were the most cited factors affecting business expectations in July.
Brendan Sharkey, head of construction and real estate at MHA, commented: "Housing demand, particularly outside of London, continues to be fuelled by an increase in disposable income due to the switch to remote working and high levels of employment.
"The levelling up agenda and Commonwealth Games have also played a role, positively showcased cities including Birmingham and Leeds as great places to live, contributing to the housing boom in these regions.
"Many businesses will be closely monitoring developments in the conservative leadership election over the month ahead. A reduction of the planned 25% corporation tax cut, a review of the HS2 extension and reduction of red tape on building new homes (mooted by both candidates) would help the sector power through the difficulties ahead.
"Yet for now, this just remains speculative and come September it may be a very different story."
>>Read more about how the industry is handling inflation here.