The number of new home registrations has continued to increase according to the National House-Building Council (NHBC) after its latest figures showed a 12% increase on 2014's figures.
New data for Q2 2015 has shown that more than 41,268 new homes were registered in the UK during the last three months compared to 36,986 in the same period last year. This also marks the highest number of new homes registered with the NHBC since the recession.
Mike Quinton, chief executive of the NHBC, said "Our figures show that 2015 is shaping up to be an encouraging year for new housing growth with new housing registrations up 12% on the second quarter of last year.
"However, we have made clear that while all signs of growth are to be welcomed, the UK is still building way below the volumes of homes that we need. There is a long way to go before our housing crisis is over."
The new figures show the northern regions are now helping to drive this increase, with the North West & Merseyside reporting a 74% increase in new homes registered in the rolling quarter from April to June 2015 – up from 2,243 last year to just under 4,000.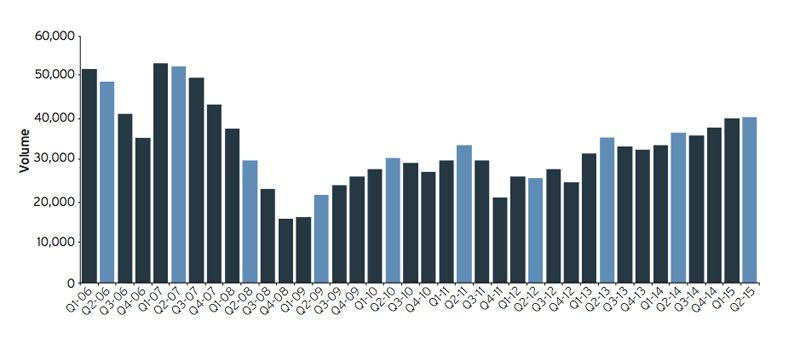 While London and the South East have continued to lead new housing growth in terms of volume of registrations, both have shown signs of slowing. There was a drop of 16% in Q2 and while the capital only saw a slight dip of 2%, it is the only region in the UK to have seen new home registrations decrease in the first six months of the year compared to 2014 (down 16%).
The data also showed a growing trend in the number of retirement homes, with more being registered with the NHBC since January than the whole of 2014. Builders registered a total of 2,337 properties specifically designed for the elderly in the first six months of 2015 – outstripping the total 1,919 which were registered for the whole of 2014.
Mike Quinton commented: "We are very encouraged to see an increase in the number of retirement homes being registered. It is widely acknowledged that the UK has a shortage of homes for the elderly, which is having a knock-on effect on the rest of the housing market.
Mike Jennings, group operations director for retirement house-builder McCarthy & Stone, said: "In the first six months of 2015 we have registered 1,850 new retirement apartments with the NHBC, and we will be investing £2bn in land and build over the next four years, which will deliver around 12,000 new retirement properties.
"However more has to be done to address the needs of last time buyers. There is a chronic undersupply of specialist retirement housing in the UK. We would like to see a national strategy for retirement housing and stronger Government policies to support its provision."