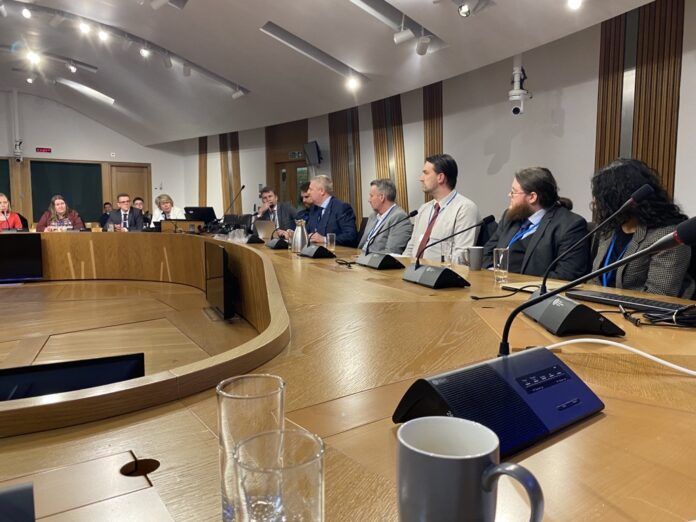 Construction experts are calling on the Scottish government to address the high failure rates of energy efficiency in the nation's homes with a long-term, joined-up retrofitting strategy.
Two in every five occupied homes in Scotland do not meet quality standards.
>>Read more about retrofitting in the industry here.
Members of the Scottish Parliament, experts in construction and housing, and school pupils gathered at Scottish Parliament to explore ways to tackle the retrofit challenge.
Around 30 people joined the Chartered Institute of Building's (CIOB) Retrofit Roundtable in Holyrood to discuss the need for a collaborative retrofit strategy.
Skilled people needed
During the event, school pupils attended retrofitting skills workshops outside Holyrood, where they tried their hands at activities including thermal imaging and working with sustainable materials.
Industry figures show that 231,000 people in Scotland are currently employed in construction but an additional 3,910 more a year are needed to meet expected demand, including in retrofitting roles.
MSP Gordon MacDonald said: "If we are to ensure that everyone in Scotland has a warm, safe, affordable and energy-efficient home that meets their needs, our existing housing stock will need to be retrofitted and repaired.
"Creating an environment that makes retrofit projects accessible and affordable to households across Scotland will require collaborative, innovative action."
MSP Alex Rowley added: "The skills demonstrations event showcased the essential skills required across the country as we tackle the challenges of retrofitting Scotland's buildings for the future.
"It is clear that we need to focus our attention on ensuring access to the knowledge and skills required to tackle the country's housing crisis and enough skilled workers to complete the work.
"This is especially the case when it comes to the difficulty of retrofitting Scotland's older buildings as these require a blend of an understanding of new technology and traditional building skills."