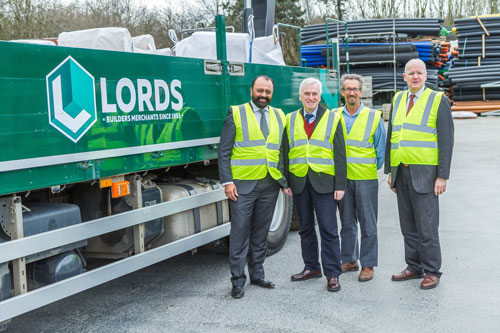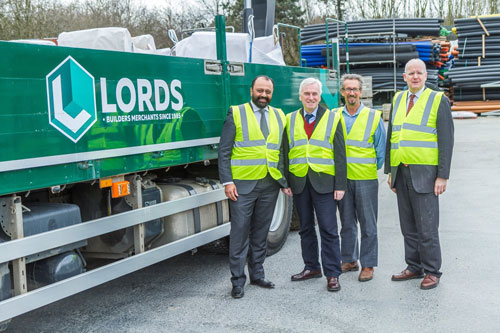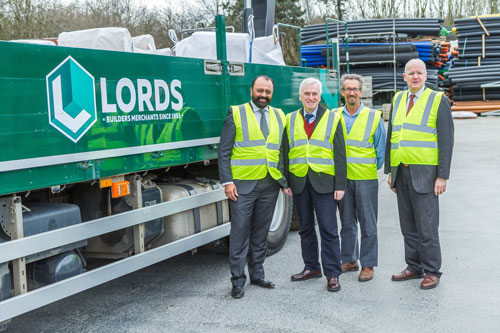 With local elections in all London Boroughs in six weeks' time, politicians must remember that housing is not built, nor are homes improved, without London's builders', plumbers' and timber merchants. That was the message from Lords, West London's independent builders' merchant, to John McDonnell MP when he visited the 33-year old business in Hayes.
Mr McDonnell was welcomed by Shanker Patel, Lords' chief executive, to see for himself how merchants deliver for communities. Solving the capital's housing crisis was discussed in the context of the Mayor of London's draft London Plan. If London is to see the 66,000 new homes a year they need, stronger emphasis on small sites for SME builders to complete is essential.
Lords and its trade body, the Builders Merchants Federation (BMF), supports the Mayor's aim to increase housing and deliver more affordable homes. But Mr Patel warned that London Boroughs will struggle to deliver this number on the brownfield land that is available. The worry is that railway depots and other sites used for merchants' yards and minerals' handling will be lost. London's industrial sites should be safeguarded, Shanker noted. If not, land used for freight is pushed further out of London – meaning more deliveries by road, not rail, increasing congestion and emissions.
After visiting the 2½-acre site, John McDonnell MP said: "I was delighted to visit Lords here in the constituency and see for myself their contribution to Hayes and the wider London economy. I pay tribute to branch manager, Stuart Macdonald, and his team in helping customers with their building projects.
"Housing is central to Labour Party thinking, and I want better quality and more affordable housing in London if we are to improve the lives of constituents. Changing ministers every so often is not helpful, and I have seen seven Housing Ministers in the last seven years. Successful firms like Lords want long-term stability in housing policy to be able to invest confidently in their people and products."
Shanker Patel, chief executive of Lords Group, added: "I was grateful to John McDonnell for taking time to visit and gain further insight into our supply chain. We wanted to show him that builders' merchants like Lords offer good jobs and rewarding careers, to people of all ages, and serve local communities in helping to improve their homes.
"Lords is pleased that housing remains at the top of the political agenda and that the Shadow Chancellor supports moves to build many more new homes. Merchants want to see unstinting efforts by national government in Whitehall, and local authorities in London, to close the gap between housing demand and supply."
John Newcomb, chief executive of the Builders Merchants Federation, concluded: "I am delighted the Shadow Chancellor recognises the role, value and importance of merchants and the BMF in delivering for local communities. This year, we celebrate our 110th anniversary as a trade association, and our 40th anniversary as the BMF. In addition to celebrating our past, we want to raise the profile of our supply chain with MPs like John McDonnell."
The Shadow Chancellor toured the business and heard how merchants like Lords have evolved since the credit crunch of nearly ten years' ago – and how the supply chain is responding to today's housing challenge. Last year, the Dawley Road branch was completely rebuilt to make way for a larger trade counter, vehicle management hub, and new group training suite.