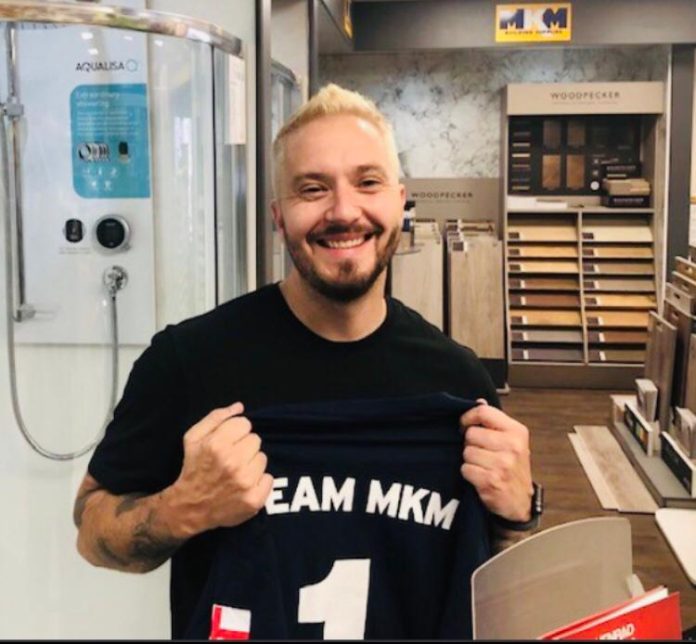 The MKM Building Supplies branch in Chelmsford has raised more than £10,000 for Little Havens children's hospice, which is part of the wider Essex-based Havens Hospices, with Mark Ward and Alan Boyd, branch directors, raising the funds through a combination of charity events, dinners and embarking on unusual activities.
The most recent fundraising effort secured more than three times the initial target, when Mark dyed his hair to match that of current England footballer Phil Foden's blonde Euro 2020 look.
The team has also organised events hosted at Chelmsford City Football Club, with guest speakers including former England World Cup winner Martin Peters and ex-West Ham players Tony Cottee and Tony Gayle.
Mark said: "It's my genuine privilege to be able to support Little Havens. They are an amazing support network that works so hard for the children and families around Essex. The facilities they offer are impressive, you visit presuming what you might see at a hospice and it just isn't close, it's a positive, high-energy place that does so much to support people through what can be a difficult time.
"The events we've held at Chelmsford City Football Club are a definite highlight of our fundraising efforts, and we've always had such a fantastic response. Most of the 100 plus tickets sell out in-branch before we have to do any advertising outside of the store. I think that goes to show how much the charity matters to our staff and customers, and how everyone here supports the local and wider community."
Rachel Hawksworth, area lead for Havens Hospices, added: "Support from people like the MKM Chelmsford team is invaluable as we must raise more than £52,000 each week to be there for every baby, child and teenager who needs us. The need for hospices and the care they offer is increasing, though, throughout COVID-19, donations have unfortunately but understandably decreased."
Meanwhile, Alan concluded: "We are already planning fundraising ideas for 2022, as we consider how we can achieve further donations to continue our support for the hospice and continue to build our relationships within the community."
>> You can read more about MKM's developments in the news here.