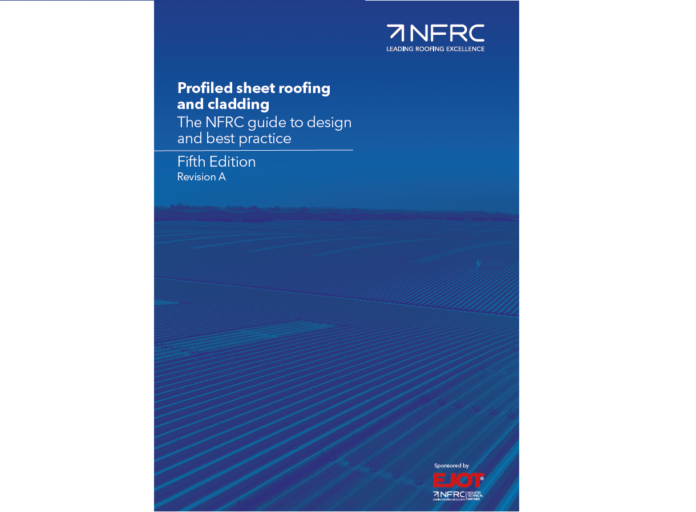 The National Federation of Roofing Contractors (NFRC) has published the Fifth Edition (Revision A) of 'Profiled sheet roofing and cladding—the NFRC guide to design and best practice' (the 'Blue Book'), which is aimed at designers, managers and estimators.
The Blue Book provides an accessible and practical guide to the application, design and installation of profiled sheeting for roof and wall cladding.
With the help of the NFRC Sheeting and Cladding Technical Committee and other stakeholders, the Blue Book has now been updated and reviewed to ensure it reflects the most recent changes in building regulations, Approved Documents, industry standards, and modern techniques.
For the first time, the Blue Book now provides a breakdown of the differences in building regulations between all four Devolved Nations and also incorporates the updated BS 5427 Code of Practice for the use of profiled sheet for roof and wall cladding on buildings.
Commenting on the publication, Bob Richardson, head of technical and training at the NFRC, said: "The Blue Book, now in its fifth edition, is widely used and respected across the industry, being an essential guide for those responsible for design and detailing alike."
He added: "I would like to thank the members of the NFRC Sheeting and Cladding Committee, members of NARM, as well as Tom Ogilvie, Bill Hawker, Andrew Brown and William Bird, who gave up their time to help produce this revision. I would also like to thank EJOT for kindly sponsoring this edition of the Blue Book."
Robert Hardstaff, managing director of EJOT, commented: "As manufacturers, we share an objective with the NFRC to encourage best practice and to support the sector by aiming to improve quality standards from specification through to installation.
"In a climate where change is moving at a pace, we embrace the originality and innovation of an industry where new products and techniques provide an objective response to these market demands. It's therefore vital to keep our technical knowledge fully updated—and that's what makes the Blue Book so vital."
>>Read more about the NFRC here.