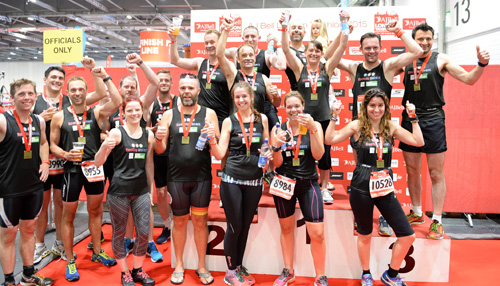 The Roofing Racers team has completed its ninth year at the London Triathlon, with well over 100 members of the roofing, roofline and window industries joining more than 13,000 other participants in the 2015 event.
Over 27 Roofing Racer teams of three and 55 individuals took part in the challenge of a 750 metre swim in the River Thames, followed by a cycle race of 20 kilometres, and a five kilometre sprint.
For the last eight years, the Roofing Racers have represented an opportunity for the construction industry to come together as a united front and raise money for Macmillan Cancer Support and Great Ormond Street Hospital. Over the years, the team has raised well over £370,000, and in 2015 hopes to raise a further £50,000 for these two worthwhile causes that rely heavily on donations and financial support to continue their great work.
Stuart Base, head of marketing at Roofing Racers, said: "It was great to see the success of Roofing Racers continue again this year. We feel such pride seeing members of the roofing, roofline and windows industry – with such differing abilities and fitness levels – participating in this challenging event. Congratulations to everyone who competed and thanks to all their fantastic supporters who helped make the occasion even more special. It's so lovely to see competitor's families and friends joining us for the day. We are on course to hit our sponsorship target of £50,000, however every penny counts to our charities – so, if you haven't sponsored our roofers yet, please get in touch."
Andrew Wakelin, managing director at SIG, said: "This year saw such amazing efforts from our Roofing Racers. We were thrilled to be joined by first timers giving it their all and to see competitors that join us year after year, striving to beat their personal best and doing so!
"Every year we see the Roofing Racers team grow, resulting in continued support for Great Ormond Street and Macmillan Cancer Support and thanks to those individual efforts, they will continue to benefit enormously. As well as being able to raise significant sums for charity, the whole event sees camaraderie in spades and every team member proud to fly the flag for the roofing, roofline and windows industries."
While every athlete taking part should be commended, the Roofing Racers has extended special credit to Bernie Fyans, who became Roofing Racers' fastest individual man with a time of 01:15:19, and Chiara Mancuso, who with a time of 01:32:09 became the fastest individual woman from the team. Leigh Greenwood, Carol Bridge and Nathan Bevan from Masco UK Window Group represented the fastest Roofing Racers' team with a time of 01:17:11.
More than 225 friends, family and colleagues of Roofing Racers attended the Tower Bridge Hotel, London after the event to celebrate the day's achievements. As well as recognising those with the best times, particular acknowledgment was made to those Roofing Racers who had overcome personal challenges to complete the event.
Roofing Racers also thanked its sponsors for making 2015's event possible: SIG Roofing, SR Timber, the National Federation of Roofing Contractors, Klober, Redland, Forticrete, ALM, Sandtoft, IKO, SIG Building Plastics, Icopal, Ubbink, Marley Eternit, Briggs Amasco and Masco UK Window Group.
To make a donation, visit the Roofing Racers' Virgin Money Giving page.