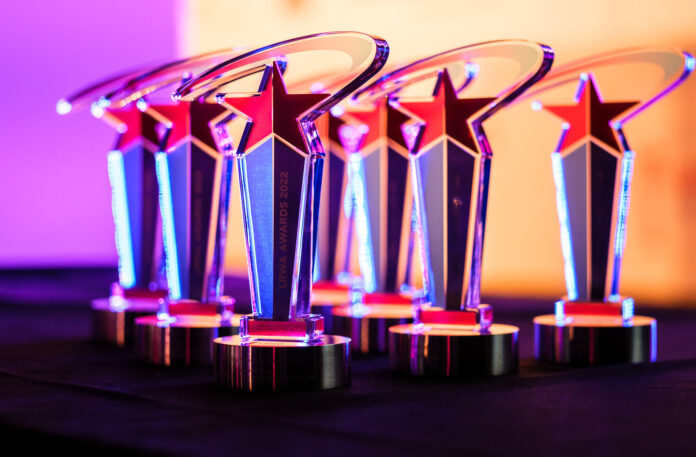 The winners of the 2022 Liquid Roofing and Waterproofing Association (LRWA) Awards have been crowned at a gala dinner at the Titanic Hotel, Liverpool.
The winning projects were selected from 20 finalists in four main categories, including Liquid Roofing Project of the Year under 1,000m2, Liquid Roofing Project of the Year over 1,000m2, Liquid Roofing Project of the Year in a Buried Application, and Liquid Waterproofing Project of the Year.
Each winner was selected by an independent panel, including specifiers and technical experts, with projects judged against strict criteria, including complexity, standard of workmanship, evidence of problem solving and aesthetics.
Talented individuals
Will Russell from MOY was crowned Trainer of the Year in recognition of his knowledge, professionalism and passion for learning, in addition to a roofing career spanning more than two decades.
Meanwhile, the Student of the Year award, sponsored by BMI Icopal, went to Nathan Towers at Group Tegula. Nathan completed his SAP training in liquid roofing and waterproofing, putting him on the path to achieving an NVQ L2 and a blue Skilled Worker CSCS card.
A Special Recognition Award was also presented to David Roberts, former director and chair of the LRWA, and managing director of Polyroof Products.
The 2022 winning projects
Liquid Roofing Project of the Year <1000m2
Winner: Cromwell Galleries – Proteus Waterproofing & & Infallible Systems Ltd
These former Georgian townhouses are Grade II listed and have been transformed into an exhibition and working space for art professionals.
The elaborate roof presented significant installation challenges. The unique trapezoid roof shape consists of seven welded frames held together with more than 1,500 weather-screen metal support brackets as well as standing pitched roof lights and vertical walls.
The air and vapour control layer (AVCL) and PIR insulation boards were measured and cut to allow installation around the brackets. The insulation was then dry laid to ensure correct positioning before being adhered to the AVCL.
Once the built-up insulated installations were complete, a polyurethane liquid-applied membrane was applied, enabling all complex detailing and shapes to be waterproofed and protected.
Detailed drawings and work installation plans were put in place to run alongside the weather screen contractors to co-ordinate all trades working on these complex roofing works.
Liquid Roofing Project of the Year >1000m2
Winner: Lawrence Hall – WestWood Liquid Technologies and Kingsley Roofing (Midlands)
Lawrence Hall is a Grade II listed building which has been used as a location for films and TV dramas. Various roof levels cascade down the building and had been suffering with water ingress.
The existing asphalt and insulation were removed and replaced with a new warm roof and PMMA liquid-applied membrane. The complex roof features a substantial amount of glazing and Georgian wired circular roof lights, which demanded a skilled installation.
Before the waterproofing membrane was applied, rapid curing PMMA putty and mortar were used as part of the preparation ensuring a suitable substrate.
As part of the waterproofing works, a small high-level terrace area was stripped and replaced with a new warm roof.
Due to time constraints, the installation of the new warm roof and waterproofing had to be carried out at the same time as the strip up and removal of the existing build up.
Liquid Roofing Project of the Year in a Buried Application
Winner: Leeds Skelton Lake Motorway Services – ABG, Kemper System and Cawston Specialist Roofing
The new £64 million Leeds Skelton Lake Services is located adjacent to a 40,000m2 area of ecologically diverse country park.
To minimise the development's visual impact, the main 5,277m2 building features an over-sailing, undulating green roof. The roof is configured in a unique ribbon pattern with 11 separate sections, adjoining a new Ramada hotel.
A series of interconnected glulam beams, constructed from layers of timber boards were glued together allowing them to be shaped into undulating sections.
The cold-applied polyester liquid membrane was installed across the timber panels.  Root resistant, this encapsulated the surface to waterproof and protect the timber deck. The liquid's rapid cure time also enabled it to be applied effectively in the winter when the initial roof structure was installed.
A 180mm XPS insulation board and water flow reducing layer was laid onto the waterproofing followed by a multipurpose reservoir and drainage geo-composite to filter soil particles, followed by an extensive green roof.
Liquid Waterproofing Project of the Year
Winner: Grafton Street Podium Deck – Mulberry GBC and BMI
This project required a very detailed podium deck to be waterproofed. Forming part of student accommodation, the work was carried out in a live environment and had to accommodate various design features, including a hard-wearing multicoloured layer with curved lines and lettering.
The PMMA liquid-applied membrane was selected and installed on the triangular shaped deck which spans two levels and includes extensive guttering.
With thousands of students using the site, the work was carried out in sections and under cover. The contractor's planning and workmanship eliminated the risk of water ingress on the concrete deck. Pre-installed timber edges were used in each section to temporarily divert water along with permanent liquid night seals.