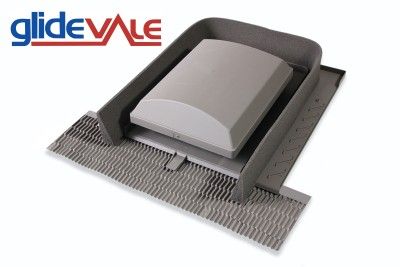 Glidevale has extended its tile ventilator range by introducing a new and improved version of its Versa-Tile G5 tile ventilator and terminal solution.
The company says that the Versa-Tile G5's universal design provides a single solution for the majority of single lap tiles, resolving the challenges around tile profile matching.
With a sleek, new, lower profile and guaranteed 20,000mm² ventilation area, it can be used for all roof space ventilation requirements and is an ideal solution for refurbishment projects where retrofit roof space ventilation is required following the installation of increased roof or loft insulation.
The tile ventilator can also be adapted into a soil ventilation pipe or mechanical extraction terminal using Glidevale's pipe adaptor and flexible pipe.
Manufactured from robust ABS and polypropylene material, the Versa-Tile G5 has a multi-coat, water based, environmentally friendly UV-resistant coating, to help weather more closely with the surrounding tiles over time. It has been proven to resist driving and deluge rain and is AA fire rated.
The Versa-Tile G5 also incorporates Aluflash, a flexible adhesive-backed aluminium flashing at the leading front edge, which ensures the weathering and wind uplift security of the ventilator.
The Versa-Tile G5 ventilator is suitable for roof pitches between 20° and 60° and is available in UV-stable brown, grey, black, terracotta, red and red streak. The tile is supplied with comprehensive fixing instructions.