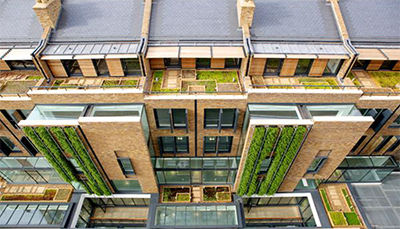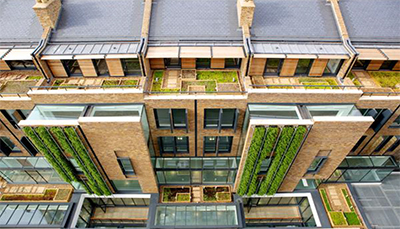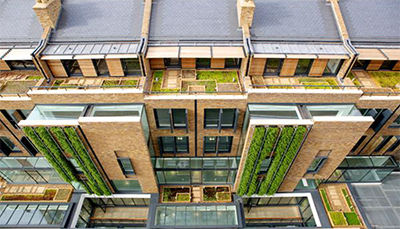 Icopal's biodiverse green roofing and living walls have been installed to support the BREEAM Excellent rating and create a pleasant outdoor space for occupants at 20 Bentnick Street – a premium mixed-use development just off Marylebone High Street in a conservation area in the heart of London.
The original building, in need of a complete refurbishment, was subject to a £15m design and build project. In-keeping with its Georgian beginnings, the building's original Grade II listed façade was retained with the construction of a new five-storey building plus basement creating 40,000ft² of premium offices and three luxury penthouse apartments totalling 4,300ft².
Achieving BREEAM Excellent status was one of the primary objectives for this project and one contributory factor to realising this was the specification of a green roof and living wall solution.
London-based roofing specialist McCormick Flat Roofing – an Icopal approved installer – specified the Icopal roofing solution also winning the tender for the install.
Installed to the first and fourth floor roof deck areas, the Icopal green roof system comprises a series of components including Icopal's Sureplan FPO single ply roofing membrane bonded on Thermazone insulation – an efficient PIR rigid insulation that is manufactured without the use of CFCs/HCFCs and has zero Ozone Depletion Potential (ODP). This is laid over Icopal's Monarflex vapour control layer and finished with Icopal's green biodiverse roofing and living wall feature.
Commenting on the installation, Stewart McCormick, managing director at McCormick Flat Roofing, said: "We worked closely with Icopal's technical advisors to ensure the specification was exactly fit for purpose. The team's experience in waterproofing technology allowed us to deliver the correct specification of roof membrane and green roof system to suit the criteria for the Bentnick Street project, based on the choice of landscaping, performance and robustness required.
"As the roof terraces are available for use by the building's occupants, a combination of plants was specified by Icopal and supplied pre-grown. We also incorporated the plants in between railway sleepers for added visual effect. The building's property management company now maintains the green roof and living walls on an annual basis.
"It was great that this project was recognised recently when we were named as award winner in the 'Green Roofing' category at The Intelligent Membrane Association (IMA) Contractor Awards 2015. Green roofing installations are certainly a popular option for BREEAM related projects."