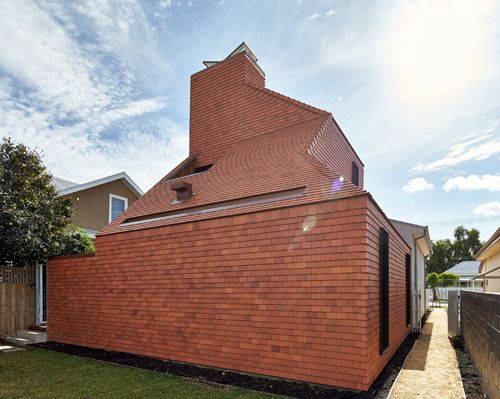 As architects, house-builders and self-builders seek innovative methods for creating striking façades, clay roof tiles and fibre cement slates are increasingly being used for vertical application. Not only does this offer new design possibilities but, together with easy-to-install cladding products, it also opens up the way for roofing contractors to diversify and offer a full envelope solution.
Clay plain tiles
The use of traditional clay tile hanging first appeared in the UK towards the end of the 17th century. Mainly associated with the South Eastern part of England, particularly Kent, Surrey and Sussex, clay tile hanging was used to provide weather protection on dormers and gables, traditionally in different shades of terracotta, red and orange.
We still see this trend continuing today and as well as the refurbishment market, some house-builders – particularly in conservation areas in the South and South East of England – still use clay tiles for vertical detailing to differentiate properties on new build developments.
Until now, we would have estimated that this type of vertical clay tiling only accounts for around 10% of the market, but we are starting to see new ways of using clay tiles on façades, which opens up design possibilities outside of the usual traditional detailing.
Recently, we have seen some very exciting projects emerging from other countries where our clay plain tiles have actually been used to clad entire buildings to create striking, yet sensitive designs. One example is Camino House in Australia. It is a private extension project, which has just won the Roof Tile Excellence Award at this year's Think Brick Awards for its use of clay tiles to wrap the entire building.
Camino House was designed in the manner of a hop kiln, with the new part of the building mimicking the chimney forms of the surrounding housing, reflecting the suburb's history, yet at the same time creating a striking aesthetic. Our Acme Red Smooth clay plain tiles were chosen by the project's architects, Bosske, as a natural product that could be used on the façade, as well as the roof.
The judges chose Camino House as one of the winners because it opened their eyes to the incredible design opportunities available through the use of roof tiles and showcases how they can move from traditional to contemporary application. The project involved the roofing contractor. Carters Roofing working closely with the architect and builder to achieve the numerous tile junctions on the continuous clay surface.
We have also seen other recent examples including a zero carbon family home in Belgium where our Hawkins and Acme single camber clay plain tiles were used across the whole roof and façade to give character to the minimalist building.
Using clay plain tiles vertically in this way isn't just a cost effective and attractive cladding. The tiles have a high longevity, reducing the whole life building maintenance costs. As well as looking the part, when used for vertical tiling, clay plain tiles also provide excellent weatherproofing properties. Installation is not dependent on weather conditions on-site for mortar mixing with brickwork, so the build can be completed faster to get to a weather-tight exterior, meaning that internal works can be started earlier. Another advantage is that work can be completed by the roofer without the need for additional contractors on site.
Easy to fix fibre cement slate cladding
However it isn't just clay tiles where we are seeing this trend towards blending the roof and the façade and contractors working across the whole building envelope. Continuous innovations in fibre cement mean it is a much more flexible design material than ever before. Increasingly slates are being used to create stand-out designs, with the modern clean lines providing continuity between roof and façade.
As well as our range of Thrutone and Birkdale fibre cement roof slates, which have been used on numerous high profile vertical slating projects, last year we launched Vertigo – the UK's first architectural fibre cement façades system specifically designed for use in vertical applications. Whereas many rainscreen cladding systems usually require a specialist contractor, Vertigo can be easily installed by roofing contractors, who previously may have felt façades were outside of their core services.
Easy-to-install cladding products like this are becoming increasingly popular and we have noticed growing demand for Cedral, our fibre cement weatherboard. For house-builders, it offers a contemporary aesthetic and can help construction as it is easy to install and is maintenance free. Roofing contractors can fit Cedral after a short training session, adding this to their portfolio of services.
As many house-builders start looking towards their building processes to see what changes they can make to improve speed and overcome the challenge of sourcing specialists with particular skills who may not be available, many are seeking alternative solutions across the building envelope. Roofing contractors have a chance to make the most of this opportunity by expanding their offering.
Extending roof tiling beyond the roof into the façade is a natural progression for contractors. But, diversifying by being able to install a variety of external wall materials and solutions could be a significant advantage, opening up new sales avenues for those who haven't offered vertical façades as an option in the past.